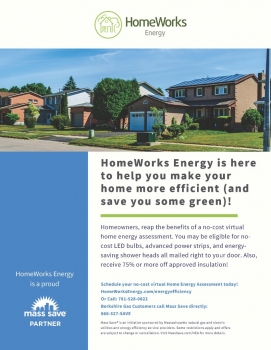 HomeWorks Energy is here to help you make your home more efficient (and save you some green)!
Homeowners, reap the benefits of a no-cost virtual home energy assessment. You may be eligible for no cost LED bulbs, advanced power strips, and energysaving shower heads all mailed right to your door. Also, receive 75% or more off approved insulation!
Mass Save® is an initiative sponsored by Massachusetts natural gas and electric utilities and energy efficiency service providers. Some restrictions apply and offers are subject to change or cancellation. Visit MassSave.com/HEA for more details.
Schedule your no-cost virtual Home Energy Assessment today!

HomeWorksEnergy.com/energyefficiency
Or Call: 781-528-0822
Berkshire Gas Customers call Mass Save directly: 866-527-SAVE

HomeWorks Energy is a proud mass save partner